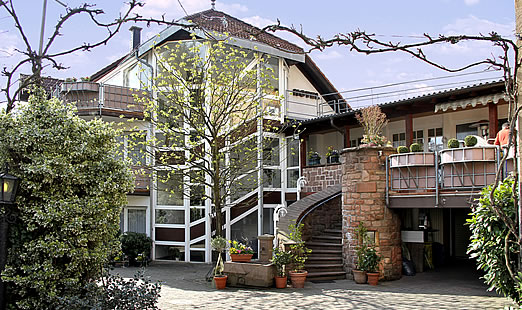 Ullrich Georg Franz sen., married to Bräuninger Catherine (married 1794) host and chandler is called here. In 1825 he was first mentioned in the birth certificate of a granddaughter as a host, an earlier exercise of that trade is therefore likely. Ullrich Georg Franz jun., married to Menges Elisabetha Barbara is mentioned on 01.09.1840 as a host. He will receive at 01.09.1840 house with stables of the estate of Elisabetha Ullrich, widowed Kohl, his niece died in 1832. This property he sells 1849/50 to Christian Küchler.
Ullrich Philip, married to Ferdinand Barbara, receives 1866/67 by his parents George Franz Ullrich and Menges Elisabetha Barbara the property (# 204), hospitality services and other buildings and leads the restaurant until 1900. Ullrich Charles, married to Becker Maria is from 16.07.1900 the owner and the license will receive at 23.07.1902 granted. On 08.09.1906, a new building is almost completed. He therefore applied for a provisional license for the parish fair, but for that he received a rejection, on the grounds that only upon completion of a license could be issued.
1907 was granted to him by the Royal District Office Pirmasens approval: "Without overnight stays, with jukeboxes". Because of foot and mouth disease, in Waldfischbach 1920, no license to perform a dance music at the on 26.09.1920 takes place parish fair issued. After the death of Ullrich Karl on 10.07.1930 continued his widow, Becker Maria, the restaurant, mentioned 12.01.1934 and 1936. Karl Ullrich's widow had seven beds in their guest operating. A bed and breakfast you got already for 1.00 RM (RM = Reichsmark), the pure night cost whole RM 0.50.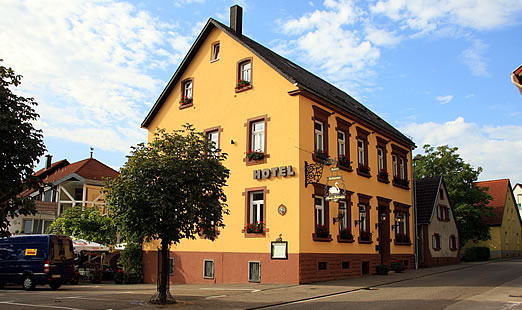 On 21.04.1937 the request of Julius Ullrich is in a council meeting discussed and endorsed to take over the restaurant from his widowed mother. The final takeover is dated on the 18.08.1938. Until the acquisition by Ullrich Karl-Heinz, the son of Julius, the restaurant was a typical village restaurant, in addition to agriculture and operated vehicle transportation, it served in addition as clubhouse numerous Burgalber clubs.
The physical and psychological stress, which took the couple Julius and Elizabeth Ullrich with this burden on himself, is now barely traceable. It was therefore not surprising that Julius while guests cheerfully and jolly carousing, often "dozed off". Good-natured raillery of guests at his address had him always safe. Ullrich Karlheinz, the son of Julius, took over in 1967 the parental property, expanded it, thanks to help from his wife.
But that both gave not satisfied, bought a neighboring plot to which is used as a parking lot and started behind the restaurant a comfortable, prosperous hotel. With Karl-Heinz Ullrich is now already the 6th generation owned by the "Zum Schwan". With daughter Gabi, a learned hotel master, the successor to the 7th generation is assured.
Source: The history of the place Burgalben 1152 – 2002 by Reinhold Fremgen †
(Text translated into English by Manfred Wedel)